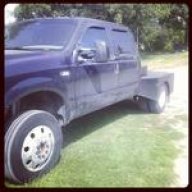 Joined

May 22, 2011
Messages

3,713
Reaction score

4
Location
Alright fellas, I've got an 02 excursion for sale....
I actually have two, one has to go. Both are high mile trucks, but serviceable. Both are 7.3, limited
Truck one - 4x4, 260k mi, converted from 4x2, so the 4x light doesn't activate when it's locked in 4 wheel. Never could find the right harness, and, honestly, didn't really care, lol.
Stock exhaust, stock turbo, stock injectors. Adrenaline hpop, and a ts6 chip. It has ctperformance's two inch lift, bilstein shocks, and rear swaybar, and a frame mounted fuel filter setup. Interior is 5/10, exterior 6/10. 2nd row bench,, and third row bench. It's been my wife's dd for the last few years, so not perfect, not terrible. It also has a decent stereo/amp/sub. This truck has a viper remote start, but I think that is coming out, as I've been having some problems with it.
Truck two- 4x2, 360k mi. 160/80 injectors, 38r turbo, 4" exhaust, cncfab hpop. This truck also has a ts6 chip, gh tuning, gauges, and a full rr return fuel system, with frame mounted fuel filters. Body is 8/10, interior is 9/10. This truck has four captains chairs, and third row seat.
As mentioned, one has to go. 14k obo, on either truck.
I can add pics this weekend, or pm a #, and I can text them.
Both trucks came out of Oklahoma, truck one has been here in mi for about 4 years, truck two about 5 minutes.
Neither one is rotted out, both are good dd, or projects. I have kids, so one or the other will serve for that.