The Super Duty's 1200 pound-feet of torque thrust it to 60 mph in 5.5 seconds—six-tenths quicker than a 2020 F-250 that last held the title
​
A 2023 Ford F-250 Super Duty raced to 60 mph in 5.5 seconds, making it the quickest diesel truck we've ever tested.
A 2020 F-250 last held the title, hitting 60 mph in 6.1 seconds, but the newer truck is helped by an extra 150 pound-feet of torque (1200 total).

Not only is the '23 F-250 six-tenths quicker to 60, but it's also a half-second quicker through the quarter-mile and 1.2 seconds quicker to 90 mph.
Heavy-duty pickup trucks are all about bragging rights. One year Ram has the best-in-class towing capacity, for example, the next Chevy or Ford owns the crown—and so on and so forth. When it comes to torque, the 2023 Ford Super Duty lineup is the current king of the hill, with its new high-output Power Stroke diesel V-8 summoning a seismic 1200 pound-feet. That recently helped a F-250 SuperCrew 4x4 hit 60 mph in 5.5 seconds, earning it the title of quickest diesel-powered truck we've ever tested and just impressively swift for anything weighing 8000-plus pounds.
F-250 Beats Its Own Record​
While heavy-duty pickups from different brands are often one-upping each other, this time Ford one-upped itself. That's because the record the '23 model broke was held by a 2020 F-250 SuperCrew 4x4 that reached 60 mph in 6.1 seconds. That truck also set the record for the quickest quarter-mile time for a diesel truck, racing 1320 feet in 14.6 seconds at 94 mph.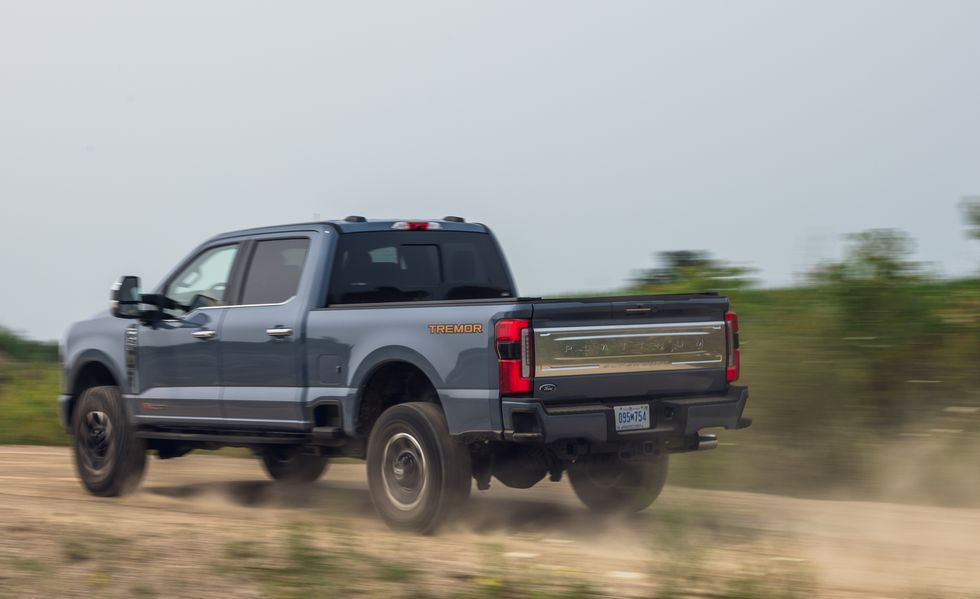 ​
As impressive as those milestones were, what's more impressive is how much quicker the new F-250 accelerates. Not only did it hit 60 mph six-tenths sooner, but its 6.8-second sprint from 5 to 60 mph was nearly a full second quicker than before. In fact, the truck we tested was between three- and nine-tenths quicker than its predecessor in virtually all of our acceleration metrics. Along with finishing the quarter-mile in 14.1 seconds at 97 mph, the F-250 hit 90 mph in 11.9 seconds (1.2 ticks quicker than before).
Of course, to extract these record-setting times, we did more than just hop behind the wheel and stomp on the go pedal.
Car and Driver
testing director Dave VanderWerp had to use some right-foot finesse and get tricky with the 10-speed automatic transmission. With the transfer case switched to 4Hi, the quickest times came from a second-gear start with a healthy dose of brake torquing, and then a quick shift back to automatic mode right after launch, as the manual-shift function isn't responsive enough to count on. Voilà!—achievement unlocked.
H/O Power Stroke Is Key​
Just like before, the three-quarter-ton Ford's speediness is a byproduct of its prodigious output, which is now even higher thanks to an upgraded turbo-diesel 6.7-liter V-8. With new stainless-steel manifolds and piping that feeds a single turbo with a liquid-cooled compressor housing, the newly availably H/O Power Stroke can handle higher temperatures and allows more boost. The result is 500 horsepower and 1200 pound-feet of torque, compared with the standard engine's 475 horses and 1050 pound-feet.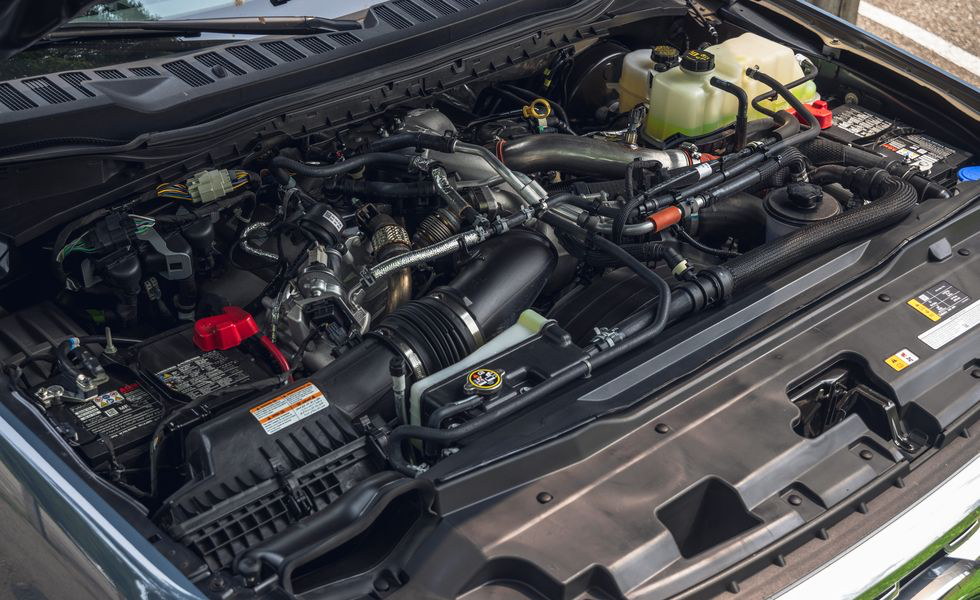 ​
Despite myriad improvements following the
2023 Ford Super Duty's significant refresh
, which include the aforementioned engine upgrade and new tech features, our F-250 Platinum tester weighs almost exactly the same as the earlier F-250 Lariat—the new version's 8100-pound curb weight is actually 20 pounds lighter. Both trucks were fitted with the off-road-oriented Tremor package that brings unique suspension bits, a limited-slip front differential, an electronic locking rear diff with a 3.55 gear ratio, and chunky 35-inch Goodyear Wrangler Duratrac all-terrain tires. Those knobby tires probably didn't help in getting all of the F-250's prodigious mass slowed down, however, with braking distance from 70 mph of 245 feet at the very lengthy end of any new vehicle.
With Ford's H/O Power Stroke V-8 currently owning the heavy-duty torque crown by a sizable margin, other heavy-duty trucks will be hard-pressed to beat its acceleration times. Meanwhile, we're still interested to see how much quicker the Super Duty can be. Perhaps a lighter regular-cab F-250 with street-oriented tires and the mightiest diesel engine could shave off a few more tenths.
Article by Eric Stafford, Senior Editor Car and Driver