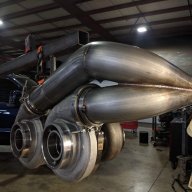 Joined

Jan 4, 2019
Messages

169
Reaction score

18
Location
2017 F350. Tuned/deleted. Guy who did the tunes has gone dark, its possibly running PPEI tunes, not sure on trans tune.

Truck has 66k miles on it, tuned since about 25k.
- New valvebody (~50K miles, dealer installed)
- New drop in ford reman trans (~59k miles, dealer installed)
- It was running 37x13.5s for a bit, owner has since went to a 295/R18.

5th - 6th its giving a nasty shudder/surge feel, but no squealing. Fuel rail pressure is fine, making me believe the valve body can't hold pressure or the OD clutches are already slipping.

I ran a few logs on it using Ezlynk. When the TC is locked, its demanding ~275 PSI line pressure.

I'm used to the 68RFE where I can monitor demanded vs. actual, is there a PDI I'm missing on Ezlynk where I can see this on the 6R140?