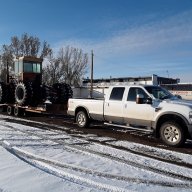 Joined

May 20, 2011
Messages

3,833
Reaction score

69
Location
Alright now it is time to see how many guys from PSA on from or live in Montana!!! So post up if you live here... And post the town (you dont have to) were you are from!!! you can put your name if you want to.. and tell us what you do..
I will start..
Howdy,
My friends call me David
I am in the north east corner of the state..
I work full time in construction.. We do just about everything but plumbing electrical and air duct (but we did the duct on one of the last jobs)
We mainly do commercial jobs, So i work with steel.. But I still prefer the good old feel of lumber in my hands..
Then as a hobby LOL Well I hope it will someday become my main income..
I run a SMALL herd (16 cows and 1 bull)of Black Angus cows.. I am looking to buy some red Angus cows sometime.. but with the price of beef right now. and the fact that bred heifers are selling for 1,600 to 2,000 dollars right now.. I think I will wait for a little bit.. The main reason my herd is not bigger is because of the price of land.. AND the fact that most people would rather break it up then run cows now...
I also like to play around with diesel engines...
well enough of my life for now.. now let hear about your!!!