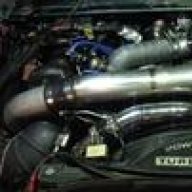 Joined

Nov 13, 2012
Messages

4,386
Reaction score

33
Location
Ok this is already half way done and I'll post pictures of the engine etc. but the truck is 2008 6.4 powerstroke, lariat, dark blue metallic ccsb with tan leather. It has 211k on it now, I studded it last summer at 195k and went back with brand new heads not remans, with all the good stuff, o dawg intake, studs etc.

The truck still runs great, but I want to sell the engine as a running setup as is, and I have a 2005 cummins I'm dropping in. I already have the engine, it has 60k original miles, but I resealed the engine, d&j head with Hellmann side draft intake, ats ex mani, studs, colt cam etc. I haven't decided on fuel and turbo setup yet but I am going to make some changes as I've changed my mind. Going to take the marine valve cover off and do a cover from d&j similar to the enforcer covers but with my shops name, do a d&j intake and a stainless diesel ex manifold, I'll be doing a dual cp3 billet cover from d&j as well, probably 2 exergy sportsman pumps but I'll be talking to lavon at firepunk on injectors and turbo setup. May do a compound setup like his old dpc setup, I think a 64/88 but I'm not sure. Only thing I do know is that it will be using precisions. It has a stock bottom end with a beans girdle for now. Once I get everything in from diesel conversion specialists, the trans, and all the little things I'll plan on doing the swap in a time of 2 weekends. I've done a few of these but this will be my nicest one yet and everything still work 100%. I don't like a drone so 5 inch with a muffler is what will be under it, and I'll reinsulate everything and sound deaden everything once the interior goes in

And if I can get loose in a couple weeks I'm going to make a drive and pick up a complete 2015 king ranch Java leather interior front and rear with console etc. It should be a well updated and awesome running setup. O and as far as the trans goes, it'll have a full billet comp 5R trans with a custom converter and tuning.