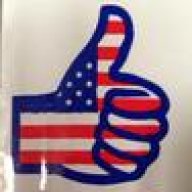 Joined

May 22, 2011
Messages

15,241
Reaction score

1
i'm now a dealer for extreme studs, they do a lot in the medium duty and sled pulling market but now offer light duty studs. Made in America, they make them for pretty much everything. they are using h-13 tool steel and what i'm really liking is the final torque of 180 to achieve desired torque on the 6.4 studs. considering what is happening , and A-1 going out of business, this is a great and viable option for us. these are not 1722 , so they wont require over 250 lbs or more of final.

here is their description:

"Our studs are made from a fine grain, hi-strength - 240k tensile tool steel specifically designed for heavy duty, hi-shock applications (DIESELS). These would be comparable to any super hi-performance bolt or stud on the market today, many of which are selling for nearly twice as much. All of our studs, washers, and 12 point nuts are made in house! This is how we are able to build the highest quality, highest strength studs at a reasonable cost.
- Fine thread, 12 point, hardened flange nuts.
- Custom hardened flat washers
- Black oxide - for corrosion resistance
- Studs are hex'd on the end for easy installation"

pm me for price, but i think these are gonna work great.